What's in Our Museum Collections?
Furniture
Over 460 pieces of furniture represent stories in history, connections to people of the past, demonstrate the work of local cabinetmakers and nationally known artisans, and provide insight into the corporate and private worlds of New Jersey. Pieces include a Windsor armchair sat in by George Washington and a bed reportedly once slept in by Marquis de Lafayette. The Society's range of furniture includes an impressive collection of twelve tall-case clocks (one made by Matthew Egerton, a renowned 1790s New Brunswick cabinet maker); a dining table made for Richard Stockton (member of the First Continental Congress) and used in the family home until 1890; well-known New Jersey firm John Jellif & Co. furniture, including a piece commissioned for the 1862 Mutual Benefit headquarters in Newark; modern (1950s/60s) furniture by Herman Miller, a Schuyler Van Rensselaer Chippendale game table from the late 1760s, a radio and cabinet from the Thomas A. Edison plant, and a wooden collapsible chair patented by a Mr. George Gardener.
Slant-Front Desk, unknown maker, probably Middletown, Monmouth County, New Jersey, 1755.
Cherry, pine, brass.
Museum purchase. 1962.201

This desk is a rural example of a late-Colonial type, consisting of a hinged slant front that opens to form a writing surface with small drawers and cubbyholes behind it. Below the shell carved door in the center is inlaid "JANUARY/THE 1 DAY/1755/JA. Underneath the slant top are a series of drawers of varying sizes.

Bed by John Jelliff & Co., Newark, New Jersey, 1857-1858.
Rosewood, metal.
Gift of Trinity Cathedral, Newark, NJ. 1989.42.1

This Renaissance Revival high head bedstead is part of an extensive 86-piece furniture ensemble supplied by John Jeliff & Co. for Edwin Van Antwerp's Newark house in 1858. Jeliff was one of Newark's most important 19th-century furniture manufacturers.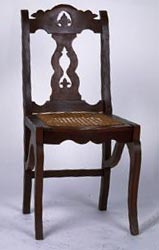 Collapsible side chair by George Gardner, Glen Gardner, New Jersey, 1871.
Walnut, cane, metal.
Museum Purchase. 1982.14
This portable chair with cane seat was George Gardner's solution to the problem of storing extra chairs. He obtained two patents on this chair that was made in his own factory. The seat and legs are removable.
What else is in our collections?
Ask a question or schedule an appointment to access museum collections