Costumes and Accessories
Over 3,700 costumes and accessories (hats, shawls, gloves, undergarments) form an outstanding collection of men and women's clothing including, military uniforms from the War of 1812 to the Vietnam War. Perhaps most famous is the uniform worn by Captain James Lawrence of War of 1812, "Don't give up the Ship" fame. Famous Paris fashion house Worth dresses, wedding outfits, and silk dresses provide examples not just of the life of the well to do but of local technology and workmanship. The Historical Society's collection is especially noted for its representation of every-day life—clothing not usually donated to museum collections but worn and then discarded. The Historical Society has everyday breeches and coats, cotton-printed dresses from the 1820s, smocks and dresses from a 19th-century Newark orphanage, and nurses' uniforms from every decade since the early 1880s. Some outfits, such as Mrs. Thomas Edison's salmon silk skirt and bodice worn at the 1889 Paris Exposition, give context to the lives of New Jersey's famous personalities, and cotton detachable pockets demonstrate early answers to washing challenges!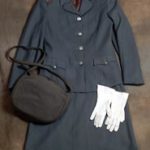 Nurse uniform, about 1944-1947.
Wool, metal, plastic, synthetic fabric lining, felt, cotton.
Gift of Mrs. Peggie L. Ross. 1995.41
The jacket, skirt, purse, and gloves were part of the uniform worn by the donor as a member of the United States Cadet Nurses Corps during World War II. She participated in the corps as a student at the Orange (New Jersey) Memorial Hospital School of Nursing. In return for a government stipend and tuition, the student agreed to serve a three-year period in the Armed Forces.
Furniture
Over 460 pieces of furniture represent stories in history, connections to people of the past, demonstrate the work of local cabinetmakers and nationally known artisans, and provide insight into the corporate and private worlds of New Jersey. Pieces include a Windsor armchair sat in by George Washington and a bed reportedly once slept in by Marquis de Lafayette. The Society's range of furniture includes an impressive collection of twelve tall-case clocks (one made by Matthew Egerton, a renowned 1790s New Brunswick cabinet maker); a dining table made for Richard Stockton (member of the First Continental Congress) and used in the family home until 1890; well-known New Jersey firm John Jellif & Co. furniture, including a piece commissioned for the 1862 Mutual Benefit headquarters in Newark; modern (1950s/60s) furniture by Herman Miller, a Schuyler Van Rensselaer Chippendale game table from the late 1760s, a radio and cabinet from the Thomas A. Edison plant, and a wooden collapsible chair patented by a Mr. George Gardener.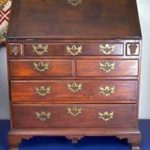 Slant-Front Desk, unknown maker, probably Middletown, Monmouth County, New Jersey, 1755.
Cherry, pine, brass.
Museum purchase. 1962.201
This desk is a rural example of a late-Colonial type, consisting of a hinged slant front that opens to form a writing surface with small drawers and cubbyholes behind it. Below the shell carved door in the center is inlaid "JANUARY/THE 1 DAY/1755/JA. Underneath the slant top are a series of drawers of varying sizes.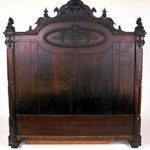 Bed by John Jelliff & Co., Newark, New Jersey, 1857-1858.
Rosewood, metal.
Gift of Trinity Cathedral, Newark, NJ. 1989.42.1
This Renaissance Revival high head bedstead is part of an extensive 86-piece furniture ensemble supplied by John Jeliff & Co. for Edwin Van Antwerp's Newark house in 1858. Jeliff was one of Newark's most important 19th-century furniture manufacturers.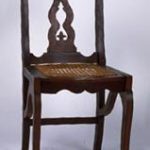 Collapsible side chair by George Gardner, Glen Gardner, New Jersey, 1871.
Walnut, cane, metal.
Museum Purchase. 1982.14
This portable chair with cane seat was George Gardner's solution to the problem of storing extra chairs. He obtained two patents on this chair that was made in his own factory. The seat and legs are removable.
Paintings, Drawings, and Sculpture
More than 240 portraits represent notable figures of New Jersey's past, many depicted by famous artists. These include Aaron Burr attributed to artist Gilbert Stuart and Theodore Frelinghuysen (Henry Clay's vice-presidential candidate in 1844) by Rembrandt Peale. Additional portraits include other works by Peale, portraits by Asher B. Durand (founder of the Hudson River School) and Oliver Tarbell Eddy (a Newark portraitist whose works are also at the Metropolitan Museum of Art). Forty miniatures and 30 pastel portraits include works attributed to folk portraitist Micah Williams and 15 pencil drawings by John Watson, an artist active in New Jersey in the early 18th century. Other works depict New Jersey's changing landscape – rural and urban scenes featuring the Passaic Falls, Point Breeze, Watsessing Park, and steamboats on rivers. Over 360 watercolors by Anna Lindner offer a glimpse into home and family life in Bayonne and Bloomfield from 1892 to 1908. Original works by artist-illustrator A.B. Frost include illustrations for Br'er Rabbit. The Society's sculpture collection includes busts of Civil War general Philip Kearny (1872), women's rights champion Susan B. Anthony (1862), and Dr. James Henry Clark, one-time president of the Academy of Medicine of New Jersey and resident of Newark.
Silver, Ceramics, and Glass
Many of the ceramic and glass pieces in the Society's collections are made not only by New Jerseyans, but are made from the state's natural resources—red, yellow, and white clays, and finely-grained sand. Dummer (Jersey City) Glass and Whitall Tatum Glass Co., and Lenox and Boehm are all nationally recognized makers. These pieces tell us of the state's industries, the workers who made them run, and the domestic life of upper- and middle-class citizens. Five hundred pieces of silver include a pair of Tiffany candelabra made in Newark for the 1900 Paris World's Fair, a 1900 Tiffany dessert bowl owned by New Jersey Governor Franklin Murphy, and a tankard crafted in 1767. Examples of pieces in the collection show the diversity of the Society's collections and story possibilities—items like the Lenox plates made for the White House, the 206-piece French porcelain dinner service owned by Governor Mahlon Dickerson, and silver pieces crafted in 1792 by Benjamin Cleveland, Newark's first silversmith and the grandfather of President Grover Cleveland.
Over 90 other categories!
Native American mortars and pestles, duck decoys, license plates, spinning wheels, cabinetmaker's planes, ferry boat signs, medical implements, Edison phonographs, patent models, samplers, the door from Benjamin Franklin's 18th-century print shop, quilts, political memorabilia, currency, leather cutter tools, a 300-pound brush salesman's 1905 portable trunk, ship models, kitchen utensils, light devices, armaments and toys are only a few examples of the items in the collection that document and reflect the changing patterns of life in New Jersey.